13 Ingenious Facts About Rube Goldberg
Celebrating the 135th anniversary of the man's birth Mental Floss'
"…Things You Might Not Know About…" takes a turn at Rube Goldberg.


Also, a quick Rube profile.
"My Job is to Make People Smile"
Cartoonist Jerry Scott, of Baby Blues and Zits comic strip fame, is on vacation in Alaska. Still he found time to discuss his career with the Juneau Empire.

"One of the women in (Kim's) office and her were comparing notes one day," Scott said. "She said 'my stupid husband thinks he wants to be a cartoonist' and Kim said, 'my stupid husband thinks he wants to a be cartoonist.'"
Turns out the other husband was Rick Kirkman, who eventually becomes the co-creator of "Baby Blues" with Scott. The two first met in the mid-1970s. Kirkman taught Scott how to send panel cartoons into magazines. The two worked together for years before coming up with the idea for "Baby Blues."
Daryl Cagle's Garage Art
Before Daryl Cagle found fame and fortune as an editorial cartoonist and syndicator he made his living as a commercial and advertising and freelance artist. He pulled some samples of that out of storage.


At the bottom of the post find arrows leading to previous and subsequent installments.
Archie Artist Honored with Statue by his Hometown
A life-size bronze statue of a red-haired, freckled Archie will soon greet visitors at a New Hampshire town in honor of the local man who drew the comic book character and his group of wholesome teenage friends.
An Associated Press article via the Westport News.

Bob Montana illustrated Archie, Betty, Veronica and Jughead from 1942 until his death in 1975 at age 54. He lived in Meredith, New Hampshire, for 35 years until he died from a heart attack while cross-country skiing.
Lines with Power and Purpose: Editorial Cartoons
From The Advocate:
It's politics as usual at Louisiana's Old State Capitol.
Beginning July 5, the capitol, which is the state's political history museum, will be showing the traveling exhibit "Lines with Power and Purpose: Editorial Cartoons." The exhibit, which runs through Sept. 29, is a collection of early 20th-century editorial cartoons from metropolitan newspapers throughout the country.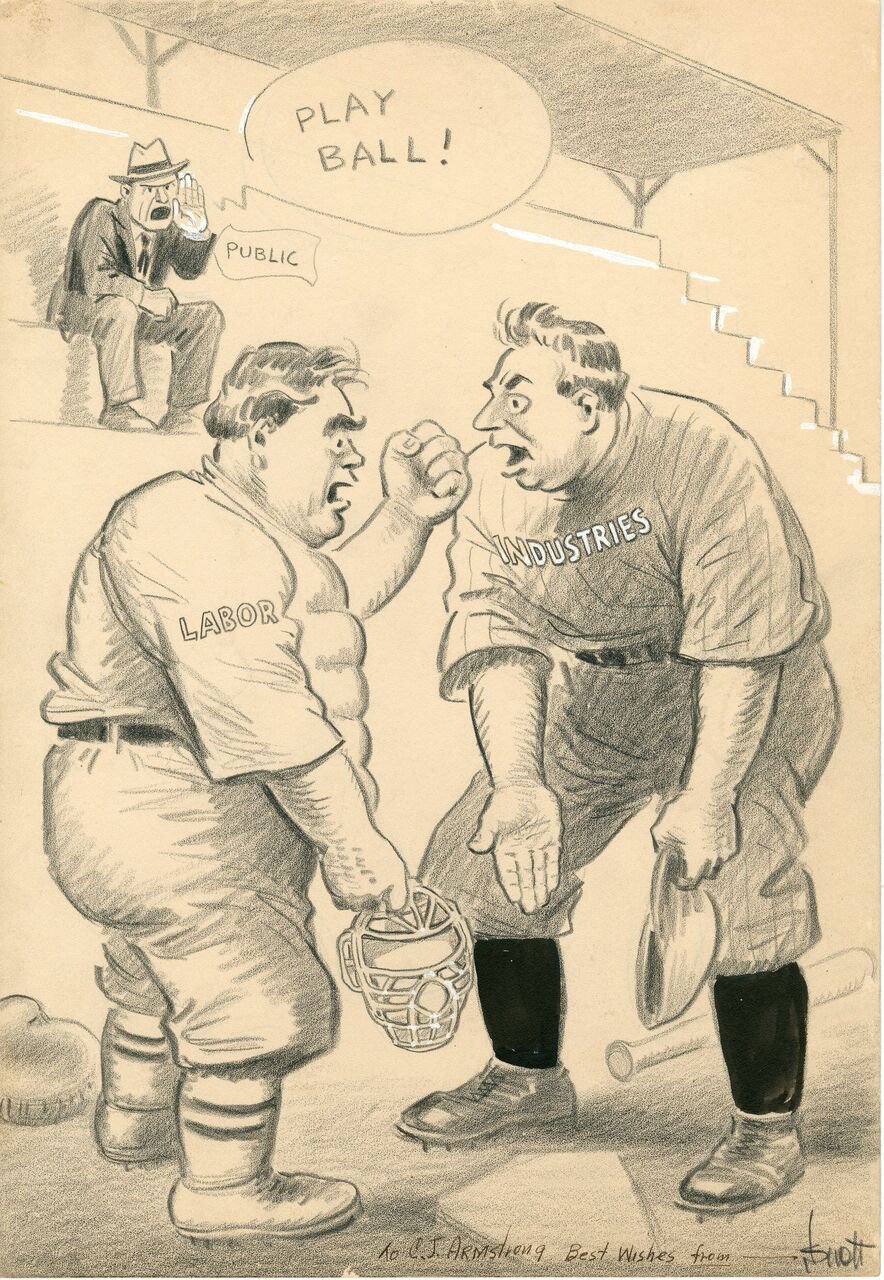 The cartoons are original drawings by such cartoonists as Bruce Alexander Russell, Herbert Lawrence Block (Herblock), Charles G.Werner, C.D. Batchelor, Charles R. Macauley and Vaughn Shoemaker.
Daily News Blames Production Problems for Funny-Pages Fail
Rival New York Post takes some glee in the New York Daily News having problems, including running the same comics page days apart, due to the News' long distance production set-up.  Something becoming commonplace among multiple newspapers owned by a single company.

On Saturday, the company had to sheepishly run a "note to readers" explaining that the comics in that day's paper were the same comics that had run in the June 16 edition the previous Saturday. The note blamed the comics mixup on "production problems."
Politics and Story Strips
Politics seems to be a topic in several continuity strips.
In Prince Valiant a politician is warning Misty Isles native of dangerous foreigners.
While in today's Fourth of July Phantom: