Home / Section: Cartoonist's Cartoonists
Monday Morning Quick Hits
Mutts Comic Con Tribute Title Panel
Patrick McDonnell's annual Comic Con comic strip  appeared yesterday.
Some may have missed his Mutts title panel tribute that is usually dropped.


Above: the July 22, 2018 Mutts title panel and the inspiration from 1963.
The full Mutts strip can be read at the Arcamax site.
Cartoonist Learns She's Ambidextrous
Liza Donnelly had an accident.
I broke my drawing arm. For the first time in my life I was not able to use my right hand to make art…
Over the course of the first week with my right arm in a cast, I alternately felt compassion for my left hand and worry for my right. I tried drawing with my left hand and found that it could do the job.
I noticed the drawings created by my left hand were much looser, and were not always close to what I had intended. They looked more like the drawings that I had done as a child. So was this left-hand usage tapping into my original creativity?

Liza learns that art is not a right or left proposition and tells us via the New York Times.
Beatlemania Revisited Half a Century Later
In recent years, [Carol] Tyler revisited her old journals and the dusty pop culture ephemera she stockpiled back then. A massive excavation subsequently saw her writing and drawing, expounding upon her Beatles-centric diaries and creating new illustrations of those days.

Hyperallergic reviews Carol Tyler's new book.
It Was An Honor To Be Nominated
Newly syndicated and published cartoonist Will Henry Wilson had his Wallace the Brave comic strip strip nominated in two categories for the San Diego Comic Con's Eisner Awards.
The winners of the awards were announced Friday night at the San Diego Comic Con's gala awards ceremony. Wilson didn't attend the ceremony, citing an annual family clambake, but learned from his editor Saturday morning that he didn't win.

"Life goes on, Wilson said

Though he didn't win, Wilson acknowledged that it was neat to have his first book be nominated for such prestigious accolades.

The Newport Daily News has the story of local cartoonist making good.
Charlie Daniel Enters Tennessee Journalism Hall of Fame
Charlie Daniel, editorial cartoonist for the Knoxville News Sentinel, to be inducted into the Tennessee Journalism Hall of Fame.


self-caricature via The University of Tennessee Knoxville
The Tennessean carries the Hall of Fame story.
Monsters of the Midway
The [Chicago] Bears have partnered with ATHLiTACOMiCS and alum Israel Idonije to tell the tale of the Monsters of the Midway. In this alternate world, the Monsters defend Chicago from a weekly nemesis drawn from the 2018 schedule. Follow the story from its beginning through the yet-to-be-written end as the season unfolds.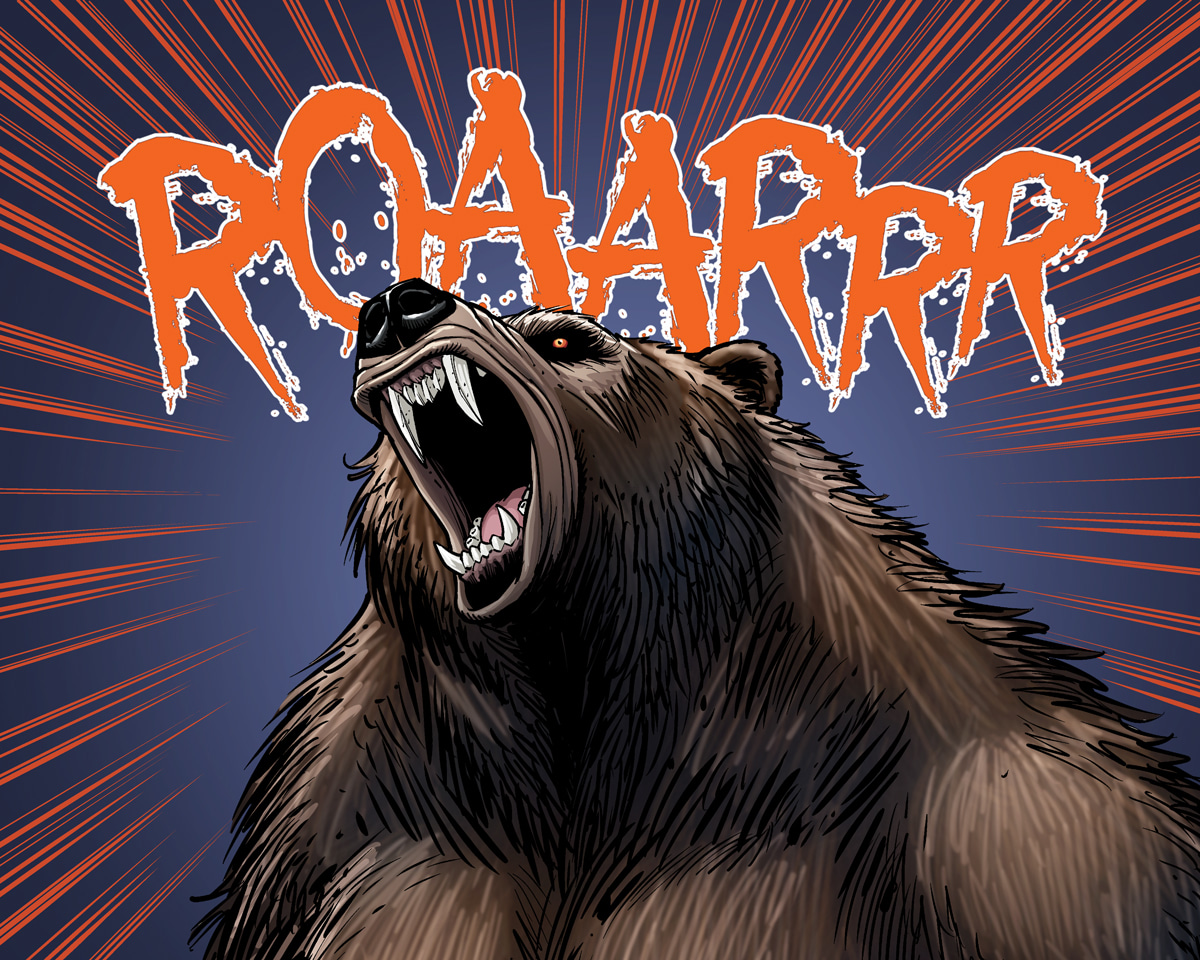 All you Vikings fans (hey, Don) can support Da Bears by reading their comic.
Networking and the High Cost of Comic Conventions
Sally Forth artist Jim Keefe on the worth of Comic Conventions:
One great way to network is comic conventions – but it can get costly. I was a guest at Dragon Con awhile back and had a complimentary table that otherwise would have cost $500 (at that time). I sold more stuff than at any other convention I've been at – but still couldn't break-even after I added up the cost of airfare, hotel and meals.
Jim, and some of his cartooning compatriots, has some advice for those attending comic conventions.
This may apply to those planning to go to the 2019 NCS Fest – keep in mind Jim's opening paragraph:
It's been my experience that networking is the key in getting work in the art field. I know it seems basic but it bears repeating that if an employer is not familiar with you and your work then they won't hire you. And this is not a matter of "it's not what you know but who you know."

Though there are plenty of "whos" to get to know at National Cartoonist Society events.